Healthy nutritious food accessible to all is one of the most profound themes of human responsibility. Food security and food production are the very interface of humans with nature – our source of life comes from water and soil and air and oceans. In the articles in this Alliance for Responsibility Newsletter we see citizenship and collective engagement as a key theme of responsibility. One of the articles in the Universal Declaration of Responsibility affirms the power of uniting with others, becoming informed and acting together...
Here follows the third issue of our Newsletter :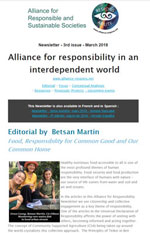 To subscribe, click here.