Transitioning to responsible and sustainable food production through citizen science
Grace Leung, January 2018
Citizen science is defined as the collection and analysis of data relating to the natural world by members of the general public, typically as part of a collaborative project with professional scientists (Oxford Living Dictionary). In New Zealand, and all over the world, communities, farmers, universities and governments have been collaborating to monitor water quality which helps them to understand the impact of agriculture on the surrounding ecosystem and to inform how to improve their farm management practices. Like many other parts of the world, New Zealand is facing a water quality crisis. Since the 1970s, New Zealand has been intensifying commercial agriculture, especially in animal husbandry for export, resulting in higher stocking rates and use of petrochemical fertilisers and pesticides. This is leading to increasing eutrophication and ecological degradation in our waterways as well as pathogen contamination from animal effluent rendering many of our rivers not safe for swimming. It has also dramatically increased the country's production of greenhouse gases and contribution to climate change.
Across New Zealand, farmers are working with scientists to use simple techniques to measure water quality indicators such as clarity, flow, temperature, macroinvertebrate diversity, algal growth and vegetation quality to help them understand the impacts of farm activities on waterways. Neoliberal economic models of agriculture do not account for the true environmental and social costs of production, creating a cognitive disconnect between farming and its impacts. When a farmer stands in a stream and measures for themselves, the elevated contamination levels and degraded habitat, that connection is often restored. At the same time, they are able to observe that there is still much that is worth protecting on their farms and that biodiversity is resilient. One farmer found a rare native fish in her local stream and expressed guilt around the soil erosion coming off her farm.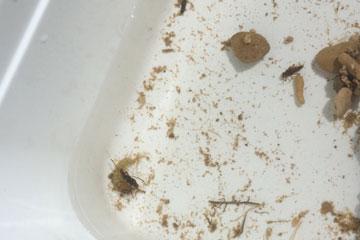 Citizen science can have many co-benefits including empowering citizens to understand natural phenomena, inform land management practices, enhance scientific literacy, catalyse social cohesion and scaling up research and monitoring projects and using data as advocacy tools. There is a long way to go to transition from intensive, large scale industrial agriculture to eco-centric, socially and culturally sustainable food production, but for responsibility to permeate throughout society, we must bring everyone along.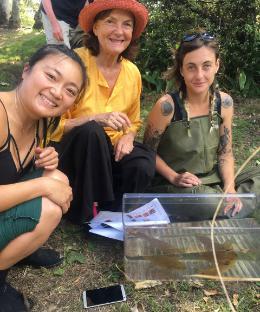 telechargement our-fresh-water-2017-executive-summary.pdf (440 KiB)
section_reference

Photo 1: Farmers and scientists sample water quality in a rural stream in the Wairarapa region of New Zealand.

Photo 2. Farmers find stonefly and caddisfly larvae during their stream health monitoring, showing that there is still valuable habitat even in modified streams.

Photo 3. Grace Leung, Betsan Martin, Liz Gibson

Monitoring rare native fish in local urban stream