ResponsAbility
Law and Governance for Living Well with the Earth
Betsan Martin, Pierre CALAME, Adrian MACEY, Linda Te Aho, Maria Humphries-Kil, His Highness Tui Atua Tupua Tamasese Ta'isi Efi, Head of State of Samoa, Judge Sir E. Taikākurei Durie, Dame Anne Salmond, July 2018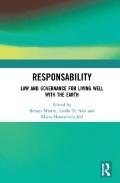 We share information about the recently published book ResponsAbility, Law and Governance for Living Well with the Earth; edited by Betsan Martin, Linda Te Aho, Maria Humphries-Kil. The book is inspired by the 2014 international symposium on law and responsibility in New Zealand. Chapters are from presentations at the symposium and additional authors.
While the focus is on fresh water as a case study on responsibility, the chapters include a history of responsibility in law and innovations in law and governance in the context of climate change. Contributors look into the history of how responsibility came to be marginalized in western law, and also write about the new vesting of rivers and forests as legal persons with a guardianship framework, and law of public trusteeship. Public Trust of water in Hawai'i provides for safeguards for water as well as commercial use. One author Klaus Bosselmann makes the case for public trusteeship of the atmosphere.
ResponsAbility challenges conventional thinking about our governance and legal frameworks. The cross-currents of persisting, established worldviews, knowledge systems, institutions, law and forms of governance are now at odds with future-facing innovations designed to help societies transition to both low-carbon economies and social equity. This book explores the ways in which we can move to new governance and legal structures that more effectively reflect our changed relationship with the Earth in the Anthropocene.
The book is written by a group of eminent scholars and leading experts from a diverse range of backgrounds, all of whom bring new knowledge and analysis from across oceanic and continental regions. Many are from the discipline of law, whilst others bring expertise on indigenous knowledge, climate, water, governance and philosophy to engage with law. Contributors include His Highness Tui Atua Tupua Tamasese Ta'isi Efi, Head of State of Samoa, Judge Sir E. Taikākurei Durie, Dame Anne Salmond, as well as Alliance partners Neetu Sharma, Pierre Calame, Adrian Macey, and Alliance Chair, Betsan Martin. A number of scenarios are presented throughout the book for the realignment of global and local law to institutionalise responsibility for social, environmental and earth-centered equity.
This is a flyer for the publication of our book ResponsAbility, Law and Governance for Living Well with the Earth.
https://www.routledge.com/ResponsAbility-Law-and-Governance-for-Living-Well-with-the-Earth/Martin-Te-Aho-Humphries-Kil/p/book/9781138606494
telechargement responsability_contents.pdf (140 KiB)
section_reference

Format Hardback: 266 pages

Publisher: Taylor & Francis Ltd

Imprint: ROUTLEDGE

Publication: City/Country London, United Kingdom

Language: English

Illustrations note 20 Illustrations, black and white

ISBN: 10 1138606499

ISBN: 13 9781138606494

pub: 2018-07-11

section_ensavoirplus

The book is available in hard copy and ebook. Unfortunately the hard copy price is high. A paperback is on order.