Report of the « Symposium on Law, Responsibility and Governance »
Aotearoa - New Zealand, November 2014
Betsan Martin, December 2015
First reflections from the Symposium on Law, Responsibility and Governance held in Aotearoa/New Zealand, on 23-25 November 2014. The Symposium to develop law for Responsibility for water and climate brought fresh winds to the sails of the FER vision of responsibility in sustainable societies.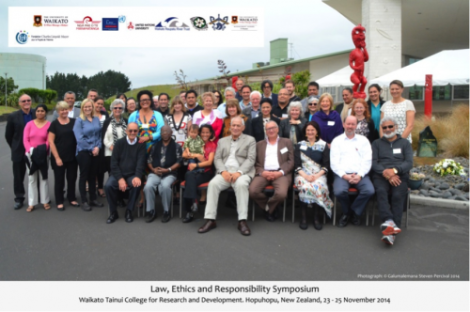 'Let us turn a position of vulnerability into a strategy of value'Taholo Kami
Peoples of the Pacific, the Water Continent, are defined by resilience and resourcefulness, although views from the outside often cast the Pacific region as vulnerable and distant, and defined by isolation.
Drawing from traditions of engaged governance, laws oriented to collective accountability, and capbility of traversing and living from ocean environments we find here frontlines of sustainable socieities because environment is integrated with economies, climate is at the forefront, and work with public trust law could pave the way for bringing responsibility back to corporates and systems of government.
You may wish to get on board for a moment and watch this:
telechargement law_responsibility_sails_in_nz_dec14.pdf (980 KiB)