Pan-Amazonian forum and alliance for responsible and sustainable societies
Convergence to contribute to the struggle for the survival of mankind
Ricardo Jimenez Ayala, FOSPA Communications Team and ARSS Coordinator for Latin American, March 2017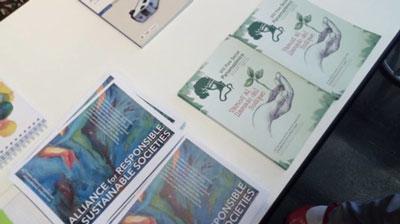 « The preservation of the Amazon, against the will of most the governments of the countries that include the Amazon in their territories, is part of the responsibility of all mankind, to sustain the integrity of the biosphere and the climate. The Amazon and the climate are both part of the global common good. »
These words from French engineer Pierre Calame, a specialist in world governance and honorary president of the Alliance for Responsible and Sustainable Societies (Alliance-Respons), shows in a clear and succinct way what is at stake in the Amazon, not just for the Amazon peoples and populations, but for mankind at large.
These words also show why a happy convergence has occurred between the process of the 8th Pan-Amazonian Social Forum (FOSPA), to be held in Tarapoto, Peru, between 28 April and 1 May this year, and the Alliance-Respons which seeks to establish responsibility as an instrument in the international human rights system.
In December 2014, during the World Climate Change Summit COP 20 in Lima, the Alliance-Respons did intensive work to position this concept on the road to Paris and COP 21. In September 2016, the Alliance-Respons took the FOSPA process to the Summit of Climate Stakeholders in Nantes, a European Green Capital. The Alliance-Respons developed an online course in partnership with Mocicc, one of the FOSPA networks, which included the Forum in its Programme and had around one hundred Spanish-speaking participants in ten countries. It also contributed to FOSPA communications at various stages in the process, such as its Expanded Local Committee, the National Pre-Forum in Peru, and now at the next forum in a few days' time.
The fact is that these two processes, and many others in the world, converge naturally in their efforts to stop environmental, climate and social deterioration. Given that this is a crisis of civilization, requiring new ethical pillars, for the Alliance-Respons it is crucial to prioritize the concept of Responsibility and make it operative in the international human rights system and countries' legal systems.
The Amazon appears to be another example that justifies this line of thinking. One demonstration of this is progressive governments' debate about the extractivist exploration of the Amazon, who argue the need to implement this to comply with the economic and social rights of large sectors whose rights have long been deferred. There is an even clearer need here to complement the notion of rights with those of responsibilities, if mankind is to survive the vital challenges of the 21st century.
It is undoubtedly a complex and lengthy issue and process that will require difficult transitions, but one which is already underway, and along this path the Alliance-Respons and the FOSPA and many other networks and processes come together and join forces, conscious that the future will be responsible or there will be no future.
From Tarapoto.
section_ensavoirplus