Colombia: the treasures of Soacha
The first training of trainers of the RES COLOMBIA
Danaë Desplanques, March 2017
Soacha is a municipality of Cundinamarca, Colombia. Presented in the medias as one of the poorest and most violent cities, but however, Soacha contains treasures. The name of the city comes from the indigenous language Muisca « Sua-Cha », which means the sun god … and one day the treasures of Sua-Cha will shine thousands of lights!
The first training of trainers of the RES COLOMBIA project was held in the Soacha districts of Altos de Cazuca and Bellavista from 27 February to 3 March 2017, with the support of the Fundacion Suenos de Vida y of the Corporacion Buena Tierra.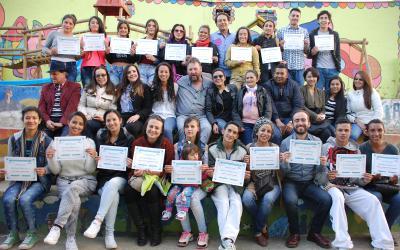 During 4 days, 20 young solidarity entrepreneurs had the opportunity to deepen their projects, to open up to other ideas and other entrepreneurs, and to experiment with innovative training how to become multipliers of solidarity within their community.
A sewing school and the sale of clothing by and for women; Art therapy; Beauty salons for self-esteem; A football school and bodybuilding clubs to teach young people respect for themselves, others and discipline; A pastry to enjoy food; Inclusive sport for children with disabilities; A telecommunications center to provide access to computers and the Internet; A positive and optimistic local newspaper to show the world another face of Soacha…
Projects and ideas abound in the heads of these young people, who only seek to improve living and working conditions in their community.
Periphery to Bogotá, the municipality of Soacha officially welcomes 400,000 inhabitants - ostensibly, it would be around 1.4 million - many of whom are displaced from the armed conflict. Today, more than half of its inhabitants live below the poverty line (74%)
Faced with many challenges, the 20 young people created a strong community and are keeping hope. The Soacha Pilot Promotion has chosen a name: « Lazos y Botones »… because the laces and buttons create link, bring together, and keep the whole together with harmony.
section_reference

The ESN COLOMBIA project is led by the solidarity organisations of Colombia, in partnership with the Ministry of Employment and the Ministry of Education. It aims to educate, sensitise and mobilise young people towards the need to enter the world of work through productive solidarity projects, promoting an integral social protection.

section_ensavoirplus