Nantes Declaration of climate actors, at the Summet « Climate Chance », september 26-28 2016, in Nantes, France
Strengthening concrete action to bridge the gap between current commitments and the objectives of the Paris Agreement"
September 2016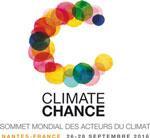 A global summit, Climate Chance aims to become a regular event for all non-state actors involved in the fight against climate change.
On a number of occasions, 2015 shone the spotlight on the strength of the commitment made by non-state actors in the fight against climate change.
As the year drew to a close, the Paris Agreement secured at the COP21 provided a solid platform to mobilise the international community and the full spectrum of actors. This agreement, unprecedented in scale, places work by non-state actors at the forefront of climate solutions, and bolsters efforts to encourage their involvement to meet the targets for the 2015-2020 period. It also paves the way for all these actors to play a role in re-evaluating the contribution made by nation states by 2018.
Growing influence for non-state actors.
The determination of non-state actors to contribute to the effort is a reality, and their mobilisation represents a formidable potential for greenhouse gas reduction. Regional strategies and the involvement of the business world and civil society are how efforts to attenuate climate change and adapt really gain traction. The quality of this involvement relies on their ability to work together, to cooperate and pool their talents, strategies and resources by developing synergies between different groups of actors. It has become increasingly clear since the Paris Agreement, that the Action Agenda is the road map to securing their involvement.
At the end of the world event « Climate Chance, » which took place from 26 to 28 September in Nantes (France), a declaration was made.
telechargement climate_chance_2016_nantesdeclaration_eng.pdf (450 KiB)