Workshop « Climate Chance » : the role of collective catering in the paradigm shift in food systems
Summet « Climate Chance », september 26-28 2016, in Nantes, France
September 2016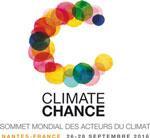 Many workshops took place there for 3 days including one, with the intervention of our members.
Presentation of the workshop :
What role can institutional catering play in developing a territorialised food system, tailored to meet the climate challenge? Discussion around a pragmatic approach involving towns, cities, activists and decision-makers from various European countries that encourage action at political and operational levels: Eating City and its « Kitchen Food Hubs » project.
Partners: Eating city
Moderator: Maurizio Mariani, à l'origine de la plateforme Eating City
Speakers:
Josep Perez, City of Valencia, Spain

Robin Gourlay, Food and Drink Policy, Scottish Government

Alessandro Cerrutti, University of Turin, Italy

Philippe Hersant, ONG Restaurants sans frontières, France

Guilhem Soutou, Fondation Daniel et Nina Carasso, France