Developing a new paradigm of responsibility for the environmental commons
Editorial - Newsletter 2 - November 2017
Yolanda ZIAKA, November 2017
Dear all
Moving away from an « ownening » mentality for the environmental commons to an ethics of « responsibility », and 'guardianship/stewardship', while integrating the imperatives of equity, social justice and democracy, represents for us the keystone for an ecological transition that would be environmentally sustainable and socially just. In this context and while the nations of the world gather for the 23rd Annual Conference of the Parties (COP23) under the United Nations Framework Convention on Climate Change in Bonn, we focus our attention to the small island nations perspective -as underlined by the Fiji Presidency of the COP23- thanks to the contributions of the many Pacific-based Alliance-Respons members and partners based in the Pacific.
Here follows a short presentation of their articles published in the second issue of our Newsletter.
Focus:
Climate Change challenges and perspectives
Climate change is a matter of security and of survival for Pacific islands. The overall priority for Fiji as President of COP23 is to accelerate the implementation of the COP21 Paris agreement. The emphasis for Pacific Islands is on Adaptation because of impact of oceans rising and changes in rain patterns, and hurricanes now and anticipated, regardless of changes towards reducing emissions globally. However, Pacific region brings traditional and indigenous knowledge to the forefront of climate responses, as explained by Betsan Martin in her paper on Fiji initiatives for implementing the 'Marrakech Partnership' among non-state stakeholders.
Although the COPs continue to be negotiated by States, COP22 in Marrakech, Morocco, gave impetus to the role of non-state actors. In a rapidly changing landscape of climate action, different renditions of climate change forums are proliferating throughout the world. The second 'Climate Chance' summit was held in Agadir, Morocco, in September 2017, bringing together regional and local governments, business and civil society organizations. Alliance-Respons members were there and report on the main outcomes.
A need for new forms of governance for the environmental commons comes in response to the inadequacy of current governance mechanisms to address long term and intergenerational responsibilities. Betsan Martin presents the effort to give legal standing to nature through a new approach, the 'Public Trust' concept, being developed in New Zealand and also spreading throughout the world. Public Trusts establish a preferential legal status for specific ecosystems or attributes of ecosystems. This approach is based on the effort to integrate indigenous traditional knowledge and indigenous law within the western conceptual frames.
The customary indigenous law refering to the management of natural resources is considered by Judge Durie, formerly High Court Judge of New Zealand, Chief Judge of the Māori Land Court, a leading legal expert and an advocate for an approach of responsibility in law. In Maori tradition, the people are en integral part of a finely tuned ecosystem. The Maori, the wildlife, the land and the waters are all related, part of the same family and interdependent. The customary law is not based on individual rights but on the corollary of a right, the individual responsibility, and can provide a invaluable source of inspiration to the shift to a new conceptual framework most needed to address the present challenges.
Climate change most negative impacts to the Pacific region is the main issue of Pinky Cupino's paper on the need for the organic agriculture to further develop in the Philippines. Conventional agricultural methods, the mainstream farming method in the country, contributes to climate change by way of high carbon emissions. This makes organic agriculture a viable climate change adaptation strategy, while it could be developed to become financially rewarding. Education on climate change and organic agriculture becomes, thus, an important component of such an effort, starting to be integrated in schools and into vocational education.
Conceptual analyses:
An ethics perspective for the shift to a 'new paradigm'
An enlightened speech given by His Highness the former Head of State of Samoa, Tui Atua Tupua Tamasese Ta'isi Efi, in an 'Ethics and Responsibility' symposium held back in 2014, raises some of the core ethical questions of today's debate on climate change. The richness of the Samoan indigenous culture might serve as a starting point for discussion on how we could rethink and re-language an ethics of responsibility for the Pacific and for humanity moving forward. Reflecting on questions of 'indigeneity' is important to the cause of developing a new paradigm of responsibility moving away from an 'owning' mentality or ethos to one of 'responsibility' and / or 'guardianship / stewardship' towards common environmental goods, core principles and concepts of Samoan customary law.
In his last book, edited in 2016, acclaimed New Zealand business journalist, Rod Oram examines what fundamental changes need to be made –and how– at the onset of 'the Anthropocene, the first geological era in which humankind is the dominant driver of planetary change'. Walking about in Beijing, London and Chicago, Road Oram, interviews intellectuals, academics, journalists, … and records the most interesting and innovative ideas bringing in a dynamics of change. In Chapter number 2 of his book, that we reproduce here thanks to the courtesy of the author and the publisher, Rod Oram presents his discussions with young economists seeking answers to current challenges, and hope.
Resources:
Just Transition, Community involvement, Cities and local territories
'Just Transition framework' is a training tool that offers a framework for a fair shift to an economy that is ecologically sustainable, equitable and just for all its members. Offered in English and Spanish, the booklet has been produced by Movement Generation, low-income and people of color organization in southern California, U.S. Popularizing basic notions in the intersection between ecology and economy, it is full of visuals, stand-alone sections, curriculum ideas, as well as proposals for using the resources provided as a tool for developing a strategy and specific campaigns for a Just Transition.
Isis de Palma presents the 'Lepac Carbon Offset Program', an educative project aiming greenhouse gas emission mitigation through education and community involvement to restoration of unproductive areas from the Atlantic Rain Forest in Brazil. This is an example of an Education Project for Sustainability focusing on the ethics of responsibility, created by students from the State University of Campinas, and involving members of Alliance-Respons network in South America.
A rich documentary basis on cities and local territories, in three languages, is offered by CITEGO, providing case studies, research papers, educational tools, publications and grey litterature. CITEGO is an association based in France, and an international resource center which aims to be a mediation tool that promotes the exchange of experiences and sharing of knowledge on matters related to the governance and role of territories in the transition to sustainable societies
'Events' section
During the past months, Alliance-Respons members have been active participating in several major conferences around the world: in 'Climate Chance' conference in Morocco, the annual meeting of non-state actors on climate change; ECOCITY 2017 in Melbourne, Australia; the UNESCO World Humanities Conference in Liège, Belgium; and Sharing Civic Experience, NGOs in Global Citizenship Education, in Hsinchu, Taiwan, The annual conference by the 'Environment and Conservation Organisations of Aotearoa New Zealand. They report here on the main challenges raised and discussed.
We hope that the articles in this issue of our Newsletter will offer you, as they have done for us, various sources of inspiration and reflection.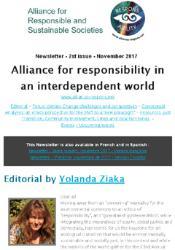 Yolanda Ziaka
Vice-President
Alliance-Respons
Greece
To read the November Newsletter click here
To subscribe, click here