A framework for a fair shift to an economy that is ecologically sustainable, equitable and just
created by Movement Generation Justice & Ecology Project, May 2017
May 2017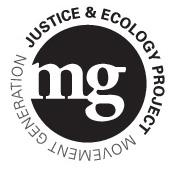 Offered in English and Spanish, it is a 32-page long training tool that offers a framework for a fair shift to an economy that is ecologically sustainable, equitable and just for all its members. It is full of visuals, stand-alone sections, and curriculum ideas.
The framework was produced by Movement Generation, low-income and people of color organization in southern California (around Oakland). Movement Generation is part of the Climate Justice Alliance (CJA).
Movement Generation Justice & Ecology Project inspires and engages in transformative action towards the liberation and restoration of land, labor, and culture. We are rooted in vibrant social movements led by low-income communities and communities of color committed to a Just Transition away from profit and pollution and towards healthy, resilient and life-affirming local economies.
The Movement Generation Justice & Ecology Project offers this booklet as a humble point of departure for folks interested in building a collective vision and strategy framework for Ecological Justice that does not separate humans from nature or social equity from ecological integrity. The evolution of its thinking has been an ongoing journey with hundreds of folks over many years from diverse movements. And it knows that the politic will continue to develop and evolve.
The Movement Generation Justice & Ecology Project invite you share you thoughts, feedback, experience, models and more.
Shared with the Alliance by Nina Gregg.
telechargement jt_booklet_english_spreads_web.pdf (2.4 MiB)
section_ensavoirplus

You can read about Movement Generation here: