Environmental Responsibilities and Democracy for the Future
ECO Conference, Nelson, New Zealand
Betsan Martin, August 2017
The annual conference by the 'Environment and Conservation Organisations of Aotearoa New Zealand' was held in August 25-28, in Nelson, New Zealand, on the theme 'Environmental Responsibilities and Democracy for the Future: Limits, Pathways and Actions' (www.eco.org.nz/about/conference-2017.html).
Betsan's paper is on new concepts in law which have the capacity to recognise interdependence. While we have environmental law, and law in different fields such as economy, and social policy, there is usually no account of the relationship between these sectors. In other words, evolution towards relational values and systems are needed for transitions to zero carbon and in governance of natural resources.
Betsan outlined thinking on responsibility as a framework with the capacity for relational systems, and to provide for accountability in the use of natural resources, such as waterways, and transitions towards equity and intergenerational justice.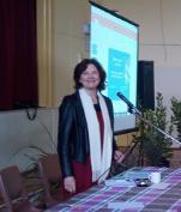 The paper, 'Responsible transitions in the cross currents of change: thinking ecologically' considered innovations in law, including public trusteeship, Maori law, and the notion of legal personality, to see whether public good interests can be advanced by such law.
We can see from significant common law cases, such as Huakina and Paki, that Māori legal thinking is emerging, which is influential and often has strong public good benefit. With an orientation to responsibility, Public Trust and Legal Personality may have scope to move away from the commodification of natural resources, and provide some prospect of human society coming into harmony with the ecosystems of the planet.
telechargement responsible_transitions_betsan_martin_eco_conf_2017.pdf (240 KiB)