Call for Contributions for the Workshops of the Climate Chance Summit in Agadir, Morocco
World Climate Summit for non-state actors, deadline for submission : 15 April 2017
March 2017
CALL FOR CONTRIBUTION - DEADLINE FOR SUBMISSION: 15 APRIL 2017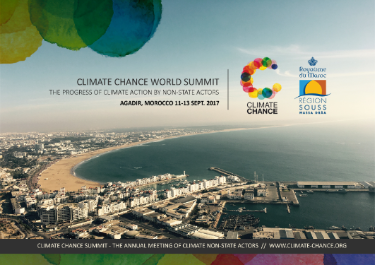 The success of the Climate Chance Summit 2017 depends, above all, on the direct involvement of everyone. In Nantes in 2016, no fewer than 300 presentations, split over 75 workshops, were accepted, structuring the collaborative thinking, the experience sharing, the valorization of international and local actions and initiatives and also the production of a first wide picture giving a better overview on the local and international actions lead by non-state actors.
Those contributions will contribute on the elaboration of the event programme and will feed the workshops of this new edition.
As in Nantes, the workshops of this Climate Chance Summit in Agadir has to be the faithful and inspiring showcase of the non-state actors mobilization, this is the reason why we renew this call for contributions. This call is open until April 15, 2017.
telechargement call_for_contributions_2017_fv_i.pdf (3.8 MiB)
section_ensavoirplus

Useful contacts:

For any questions concerning the Climate Chance association: association@climatechance.fr

For any questions concerning the call for contributions: contribution@climate-chance.org