Education and training through the European project 'ETRES'
Educational material on environment and sustainability
Yolanda Ziaka, November 2019
What is ETRES?
ETRES is a bunch of mediterranean partners professionally engaged in Education for Environment and Sustainability.
ETRES is a project supported by the European Union under the Erasmus + program for the period 2016-2019.
ETRES is a need: environmental educators have seen their profession evolve over the last few years to a new role: to empower citizens, to facilitate and support their efforts to be effectively engaged in sustainability actions.
ETRES is a e learning website (etreserasmus.eu/?PagePrincipale), a free platform of e-learning, comprising more than 50 multimedia educational resources in 5 thematic areas.
ETRES is also an increasing open network of European partners engaged in vocational training and on-the-job support for ecological transition projects.
Read here the communication on the project by Tomaso Colombo, project coordinator in Italy for Parco Nord Milano, during the 10th World Environmental Education Congress, November 3 - 7, 2019 in Bangkok, Thailand (weec2019.org/)
telechargement tomaso_colombo-weec2019-etres2019.pdf (4.9 MiB)
'ETRES' - 'European Educational & Training Resources for Environment & Sustainability'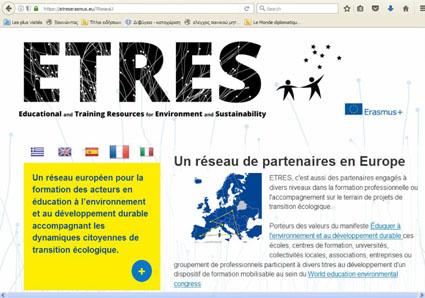 From September 2016 till August 2019, seven organizations from four European countries active in the field of Education for Environment and Sustainability have been working to develop a training program for education professionals accompanying initiatives by citizen groups and local communities aiming at ecological transition and sustainability.
This project, entitled 'ETRES'(etreserasmus.eu), was supported by the European Union under the Erasmus + program. The association 'Polis' was implementing the project actions in Greece, in collaboration with the National Institute for Agricultural Graduate Studies in Montpellier – Montpellier SupAgro (France – project coordinator), Alchimia Società Cooperative Sociale (Italy), Parco Nord Milano (Italy), Graine Languedoc-Rousillon (France), Institute for Training and Research in Environmental Education (Ifrée) (France), Alejandro Gallego Barrera SLU (Spain).
As part of this project, educational material was created in four languages (French, Greek, Spanish, Italian), which includes texts presenting and critically analyzing basic concepts (sustainability, ecological transition, participatory democracy …), presenting pedagogical methods, theoretical approaches to education in the field of environment and sustainability and tools (systems analysis etc), and a rich audiovisual material (conceptual maps and videos).
This material is now available on the 'ETRES' website (etreserasmus.eu/), for free use by educators and trainers or anyone who wishes to update and expand their knowledge in this area independently. A tutorial manual describes all the material and how this can be used.
The ETRES educational material is divided into five sections:
Sustainable development and ecological transition

Participatory democracy and active citizenship

Organizing and coordinating an accompanying process

Ecological transition - the educational dimension

Educational practices for accompanying citizens' initiatives
The ETRES project was based on the observation that citizens' participation in the decision-making process is now a key issue in order to strengthen the way towards a sustainable society. Thus the role of educators active in Education for Environment and Sustainability. Educators are increasingly being called upon to empower people, to play a key role in supporting the actions of citizens towards ecological transition and sustainable management of resources at the local level.
This new mission goes far beyond their traditional activities, primarily consisting on raising awareness of environmental issues, …, acquiring knowledge on environmental issues, promoting and adopting new behaviors in terms of energy consumption, waste disposal, transportation … The question that seems to emerge among the people involved in EESD, and which is shared at the European level at the present time is: how to best accompany the territorial dynamics of ecological transition?
The aim of the ETRES project was to contribute to the lifelong training of educators, members of environmental and educational organizations, environmental professionals, and all those active in the field of Education for Environment and Sustainability, in order to be able to better fulfill this new role.
The ETRES project has now been completed and we hope that the pedagogical material we have created will be widely disseminated and will be of use to those involved in Education for Environment and Sustainability.