Workshop « Climate Chance »: Sustainable Agriculture
Summet « Climate Chance », september 26-28 2016, in Nantes, France
September 2016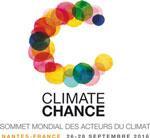 Many workshops took place there for 3 days including one, with the intervention of our members.
Presentation of the workshop :
Climate Change already affects agriculture especially in southern countries. The development of a sustainable agriculture system could limit the negative environmental and socioeconomic impacts of Climate Change (by reducing the emissions of green house gases, adapting agriculture, improving food security, protecting small farmers and involving local populations). Through different examples at different scales, how can sustainable agriculture be a solution for global warming?
Partners: Secours Catholique Caritas France, Max Havelaar, Harghita County Council - Romania., ASEC
Speakers :
Jean Vettraino, Advocacy Officer, Secours Catholique Caritas France, France

Csaba Borboly, President, Harghita County Council, Romania

Benjamin Quinones, Jr., PhD, President, Asian Solidarity Economy Council-Philippines, Chairman, RIPESS-Asia - Philippines