Workshop « Climate Chance » : Meeting with remarkable people. Vulnerability & Resilience with respect to Climate issues: women, young people, elderly people, third world
Summet « Climate Chance », september 26-28 2016, in Nantes, France
Pierre Caro, September 2016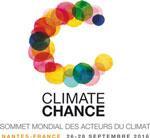 Many workshops took place there for 3 days including one, with the intervention of one of our members.
Presentation of the workshop:
A broad outlook driving action diversity: feedback and sharing of experience concerning the commitments made and the practices used by stakeholders from various backgrounds. Women, Young people, Elderly people, Healthcare, Green climate financing. Panel and workshop in mini-groups with the public. Partners: Organisation des Femmes Actives pour le Développement - Côte d'Ivoire, JMA Group Finances News hebdo - Maroc, Une Terre Indolore - Développement Durable - Togo, Pierre Caro Retraité Professionnel.
Interview by Romina Melwani, Femmes pour le Changement
Speakers:
Laura Agroum, Programme Manager, Finances News Hebdo, Morocco

Mariame Sangaré, Founding President, Organisation des Femmes Actives pour le Development, Ivory Coast

Dominique Ache, Education Consultant, National Education, France

Pierre Caro, retired person, France

Romina Melwani, Specialist in Nutrition. International COY (Conference of Youth) Coordinator for the NGO Brahma Kumaris Environment, Morocco

Dr. Afi Enyo Vuti, Consultant-Coordinator, Une Terre Indolore - Sustainable Development, Togo

Fathïa Bennis, Chairwoman and CEO Maroclear, president and cofounder of the Women's Tribune, Morocco