1-5 September 2020, Manchester, UK : Building Alternative Livelihoods in Times of Ecological and Political Crisis
The first joint conference between the International Degrowth Research Network and the International Society for Ecological Economics will take place 1-5 September 2020 in Manchester, UK. This conference will bring together academics from the Degrowth and Ecological Economics communities, voices from the Global North and Global South, civil society actors, activists, artists and policy-makers. It aims to break down silos and stimulate dialogues between and within different perspectives, disciplines and social movements.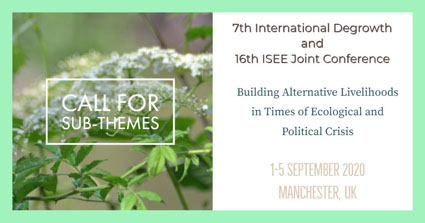 Building Alternative Livelihoods in times of ecological and political crisis is the overarching theme of the conference. Economic systems have always co-evolved with social, environmental and technological systems. The worsening ecological and climate crisis means we must urgently abandon practices of production and consumption that drive ecological degradation and that rely on unsustainable extractivism. We must develop alternative livelihoods which are harmonious with planetary limits and safeguard material living conditions. We must invent and trial new ways of working, providing for everyone's needs, caring for each other and democratising the economy. We must seek clarity about the systems of provisioning which will be utilised in a society beyond growth where states and markets play more peripheral roles in the allocation of resources. In short, we must ask what are the alternative livelihoods which ensure the future conditions of societal wellbeing.
The construction of alternative livelihoods entails a radical transformation of economy, culture and society. What are the institutional arrangements which safely provide for basic needs, social stability and democratic legitimacy in the transition to environmental sustainability? How can both social and ecological justice for the populations of the Global North and the Global South be ensured? How can political support be mobilised for the necessary transformations? How can the transition to environmental sustainability be made politically viable and democratically legitimate?